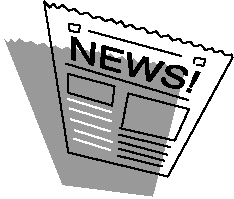 The TC Friends Gazette
VOL. XX, NO. 1 (published quarterly)
March 2003
Barbara Lewis - President
Eleanor Lyall - Vice President
Mary Hunt - 2nd Vice President
Janice Pitzer - Recording Secretary
Janice Pitzer - Treasurer
WEDNESDAY EVENING SUMMER BAND CONCERTS:

Bring your lawn chair and/or blanket, a picnic dinner, and join your friends and neighbors for outstanding music here at Temple City Park.

ANNUAL WOMANS CLUB LIBRARY PHILANTHROPY LUNCHEON:
The annual Womans Club Library Philanthropy Luncheon to benefit Temple City Library will be held at 12:30 PM, on July 2003, at the Clubhouse. The Clubhouse is located at 5954 Kauffman Avenue, Temple City. The price of your catered lunch will be announced. Reservations are a MUST. So be sure to call.

A donation of a new or pre-owned book is requested at the luncheon. Bring as many as you wish. Everyone is invited. Come and support your Library!


MANY THANKS TO OUR ELEMENTARY SCHOOL READING HELPERS:
The Friends of Temple City Library have completed another successful school year at the Cloverly School in helping 4th grade students read better and faster.


If we can get some more people to participate, we would like to go to more than just the one local elementary school. If you have some free morning hours, we urge you to consider helping our 4th graders become better readers. Its a lot more fun and a lot more rewarding than you might think, as any of our ladies will tell you.

This is a very good way of establishing community outreach on behalf of our Library. After all, there is no better cause than the advancement of our children.


GIVE SOMEONE THE GIFT OF READING:
Become a volunteer in the Literacy Program. Temple City Library and the Friends of the Temple City Library are establishing a Literacy Program at our Library. We are currently looking for volunteers. The necessary training for this will also be available at our Library.

If you can help us, please call Barbara Rodriguez , Temple City Library, (626) 285-2136.


PROGRAMS AFTER OUR MONTHLY BUSINESS MEETING:
Our members attending the monthly business meeting of Friends of the Library have enjoyed programs being presented. If someone has finished an exceptional book they want to share, or have heard about an interesting organization spokesperson, or has an interesting topic for
discussion, we are eager to hear about your ideas. You may contact our Vice President, Eleanor Lyall.